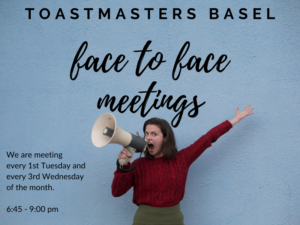 Toastmasters of Basel are meeting face to face in 2023!
Our next meeting is on January 18 at 18:45.
Join us every 1st Tuesday of the month and every 3rd Wednesday of the month in 2023 for face-to-face meetings at Lohnhof, Basel.
Toastmasters of Basel
The mission of a Toastmaster Club is to provide a mutually supportive and positive learning environment in which every member has the opportunity to develop communication and leadership skills, which in turn foster self-confidence and personal growth.
Do you want to improve and practice your public speaking skills?
Are you looking for more self-confidence, support and engagement when speaking to an audience?
Do you want to become better at leading meetings and teams at your workplace?
Then Toastmasters is for you. Toastmasters helps you become the speaker and leader you want to be.
We warmly welcome guests and new members in our club. Our meetings are well-organized and we always have a lot of fun in our meetings.
Toastmasters of Basel has been established in the year 2000. The members of Toastmasters of Basel are a diverse group in terms of gender, age, and cultural and professional background. A large number of our members are expatriates from all over the world. Our club has received the highest Toastmaster award: The President's Distinguished Award for 2011/12, 2012/13, 2013/14, 2015/16 and 2016/2017.
Follow us on Facebook to see all news:
Photos by Juliette Fong, Video by Sabine Schmelzer
Learn more about our club.

Join this inspiring community
Become the speaker and leader you want to be.